— Home Market Foods —

CRAZY
AWESOME
FLAVOR
with a

veggie credit *
New!
BEEF MEATBALLS
with
RED PEPPERS AND SWEET POTATOES
For Additional Product Information and Bid Pricing,
Complete This Short Contact Form.
Give 'Em The Real Deal.
Authentic, all natural, slow-cooked or open fire grilled — you name it,
we cook it up right. We dare you to offer up anything less than the best.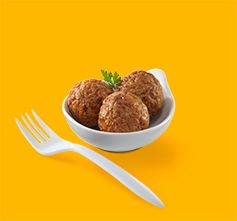 Chicken
Meatballs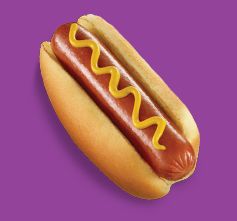 100% Natural
Angus Beef Hot Dog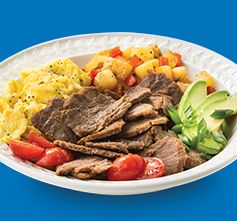 Seasoned
Shaved Steak
Scroll horizontally if all columns not visible.
Product Code
Description
Pack Type
Case Wt (lbs)
Svgs / Case
CN Portion (oz)
Meat / Meat Alt. (oz)
Grain Eq. (oz.)
Shelf Life (Frozen)
Calories per CN
Fat / CN (g)
Sat. Fat / CN (g)
Sodium per CN (mg)
CN Label
FRANKFURTERS
35596 0108
Eisenberg Beef Franks, 8-1, 6"
2 / 5 lb bags
10.44
80
2
2
--
12 mo.
170
16
6
460
35596 0154
Eisenberg Black Angus Mini Beef Franks*, 16-1, 3"
4 / 3 lb bags
13.00
192
1
1
--
12 mo.
90
8
3
230
35596 0119
Eisenberg Natural Black Angus Beef Franks, 8-1, 6"
2 / 5 lb bags
10.44
80
2
2
--
12 mo.
160
15
6
240
35596 0174
Eisenberg Natural Black Angus Mini Beef Franks*, 16-1, 3"
4 / 3 lb bags
13.00
192
1
1
--
12 mo.
80
7
3
115
35596 0411
Eisenberg Bakery Whole Wheat Mini Hot Dog Buns, 4"
12 / 16 ct bags
14.07
192
--
--
1
12 mo.
60
0.5
0
70
35596 0410
Eisenberg Bakery Mini Hot Dog Buns, 3.75"
12 / 16 ct bags
13.22
192
--
--
1.25
9 mo.
90
1
0
190
CHICKEN
01266 3872
Cooked Perfect Fire Grilled Buffalo Ranch Chicken Chunks
2 / 5 lb bags
10
about 53
3
2
--
12 mo.
150
8
2
490
01266 6160
Cooked Perfect Foodservice Chicken Meatball
2 / 5 lb bags
10
about 53
3
2
--
15 mo.
160
9
1.5
370
BEEF
01266 6100
Cooked Perfect Beef Meatball with Red Peppers and Sweet Potatoes**
2 / 5 lb bags
10
about 53
3
2
--
12 mo.
240
17
7
320
01200 6005
Cooked Perfect Fully Cooked Seasoned Shaved Steak
6 / 2 lb bags
12.00
96
2
2
--
12 mo.
130
8
3.5
380
*On Mini Franks, 1 oz = 1 Meat/MA and 2 oz = 2 Meat/MA
** Contains CN Credit - 1/8 cup of Red and Orange Vegetables