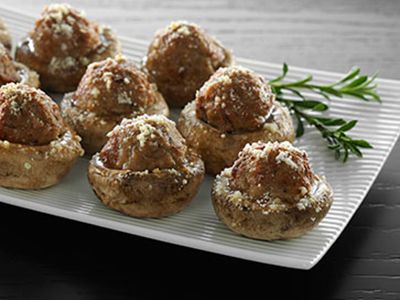 The perfect appetizer for your New Year's Eve party or even for watching the big game. This recipe features our Cooked Perfect® Italian Style Meatballs, which are stuffed into large white button mushrooms. These Meatball Stuffed Mushrooms are then topped off with parmesan cheese and drizzled with gravy, creating a savory snack that will have your guests coming back for more.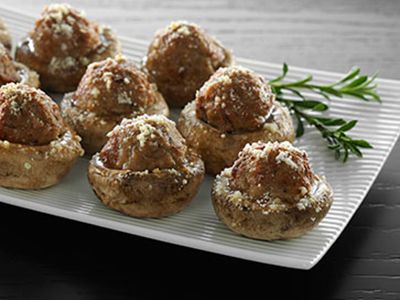 Meatball Stuffed Mushrooms
Ingredients
Our Cooked Perfect® Products
Other Ingredients
1

each

10-oz. jar beef gravy

36

each

Large white button mushrooms

1

cup

Parmesan cheese, grated
Instructions
Preheat oven to 350° F.

Blanch the mushrooms in boiling water for 3 minutes, drain, then set aside.

Slice the meatballs in half.

Simmer the meatballs and brown gravy in a 10" skillet for 5 minutes.

Remove stems from mushrooms and place on a cookie sheet.

Place 1 meatball in each mushroom cap, sprinkle with grated cheese and bake for 8 minutes.

Let stand for 5 minutes before serving.

Serve and enjoy.
Notes
This recipe can be made with any variety of Cooked Perfect™ meatballs.