Cooked Perfect® Italian Style Meatballs
. Mix the meatballs with tomato sauce and simply place them inside each of the cored bell peppers. Top off each pepper with salt, pepper and mozzarella cheese and you will have a new family favorite in 40 minutes or less!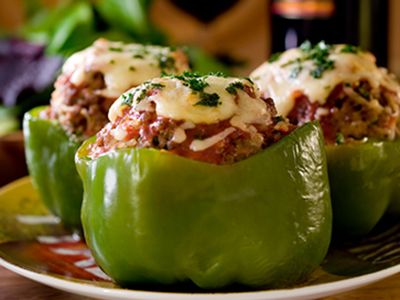 Meatball Stuffed Peppers
Ingredients
Our Cooked Perfect® Products
Other Ingredients
2

cups

Shredded mozzarella cheese

1

cup

Spaghetti sauce

1/4

cup

White onion, diced

4

each

Green or red pepper, seeds removed

Salt and pepper
Instructions
Preheat oven to 375 degrees.

Wash and dry pepper. Cut off the top and remove core and seeds.

Place 4 or 5 Cooked Perfect® Italian Style Meatballs into the pepper.

Dice the white onion and mix with spaghetti sauce.

Pour the mixture inside the pepper, then top with mozzarella cheese.

Top with salt and pepper to taste. Place in the oven and cook for 35-40 minutes.

Serve and enjoy.
Notes
This recipe can be made with any variety of Cooked Perfect™ meatballs.