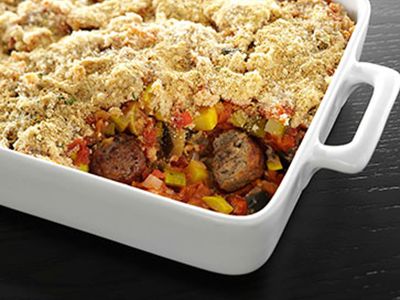 Cooked Perfect® Turkey Meatballs
.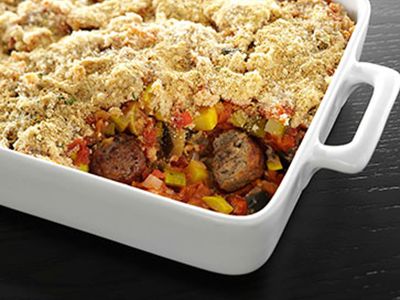 Mediterranean Meatball Casserole
Ingredients
Our Cooked Perfect® Products
Other Ingredients
1

can

10-oz. can stewed tomatoes, crushed

1/2

cup

Summer squash, diced

1/2

cup

Zucchini, diced

1/2

cup

Eggplant, diced

1/2

cup

Red bell pepper, diced

1/2

cup

White onion, diced

1/2

pound

Vine tomatoes, cut into sixths

1/8

cup

Fresh basil, chopped

1/4

cup

Parmesan cheese, grated

1/4

cup

Breadcrumbs

Salt and pepper to taste
Instructions
Preheat oven to 350 degrees F and oil the sides of a 4-quart casserole dish.

In a 10" skillet, sauté the vegetables and vine tomato for 5 minutes.

Add the meatballs and stewed tomatoes and simmer 10 minutes, then add the fresh basil, salt and pepper.

Place everything in the casserole dish and bake for 20 minutes.

Sprinkle parmesan cheese on top. Serve and enjoy.
Notes
This recipe can be made with any variety of Cooked Perfect™ meatballs.