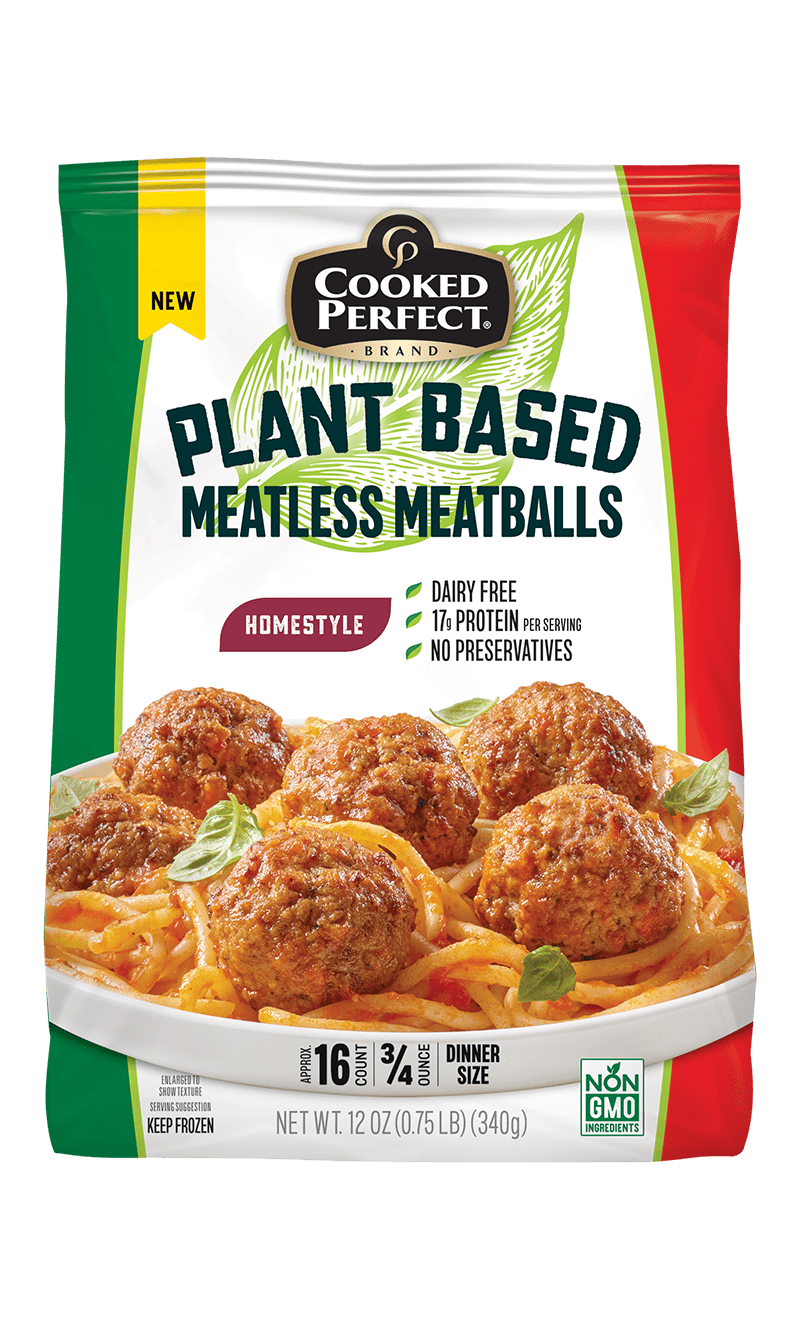 Plant Based Protein
These great-tasting non-GMO meatballs provide 17 grams of protein without the meat and dairy. Seasoned with a custom blend of herbs and spices, they are fully cooked and frozen for a quick and delicious complement to many recipes. Lower in fat and cholesterol, Cooked Perfect™ Plant Based Meatless Meatballs are a great choice for Meatless Mondays, and every other day of the week. Loaded with quality ingredients, Cooked Perfect® Meatballs are the perfect choice for sharing quality time with friends and family.
Non-GMO Project Verified
No Artificial flavors or colors
No Preservatives
Dairy Free
17g of Protein Per Serving
¾ oz. meatball size, appropriate for appetizers, casseroles, pizzas, pastas, sandwiches, subs, and other recipes
12 oz. bag of approximately 16 meatballs
Where To Buy
Nutritional Info
Nutrition Information
Cooked Perfect Plant Based Meatless Meatballs
Nutrition Facts
Serving size 4 meatballs (85g)
Calories 190
% Daily Value *
Total Fat 9g
12%

Saturated Fat 6g

30%

Trans Fat 0g

Cholesterol 0mg
0%
Sodium 400mg
17%
Total Carbohydrate 11g
4%

Dietary Fiber 5g

18%

Total Sugars 3g

Includes 0g Added Sugars

0%
Protein 17g
19%
We occasionally update the specifications for all of our products. Although we aim to update our website in a timely manner, we cannot guarantee that the most updated production information is on our website. Always refer to the label and directions on the actual product packaging before using or consuming one of our products. Please do not hesitate to
contact us
with any specific questions or concerns.
Heating Instructions
Cooked Perfect™ Plant Based Meatballs are fully cooked. Please follow directions below for heating. All times are from frozen state; reduce time if thawed. Time may vary.
Conventional Oven
Preheat oven to 350° F. Place frozen Cooked Perfect™ Plant Based Meatballs (entire bag) in a single layer on a baking tray. Heat for 17 to 20 minutes or until hot. Internal temperature should reach 165°F.
Microwave Oven (1000 Watt)
Place 4 frozen Cooked Perfect™ Plant Based Meatballs on a microwave safe dish. Heat on HIGH for 55 to 60 seconds or until hot. Remove and let stand for 30 seconds. For every 3 additional frozen meatballs, add 45 seconds of heat time, rotating meatballs half way through.
Stove Top
Heat sauce or gravy in a sauce pan. Add frozen Cooked Perfect™ Plant Based Meatballs. Cover and heat on medium for approximately 20 minutes, stirring occasionally.
Air Fryer
Place Cooked Perfect™ Plant Based Meatballs in a single layer in an air fryer. Heat to 350°F for 8 to 10 minutes, flip halfway.