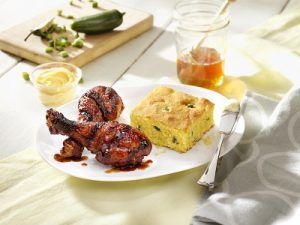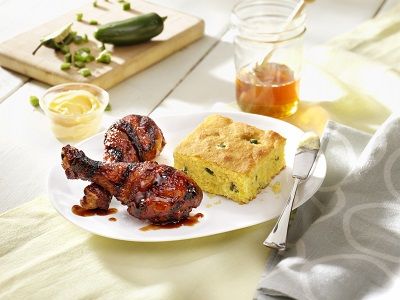 Spice up your weeknight dinner rotation with this yummy dish. Jalapeño cornbread and our Cooked Perfect® Fire Grilled Wildflower Honey BBQ Drumsticks make the perfect pairing. The sweet and smokey flavor of the Wildflower Honey BBQ Drumsticks nicely complements the heat of the jalapeños in the cornbread. You can moderate the amount of spice in the cornbread to your liking by adding less than 1/2 a cup of jalapeños.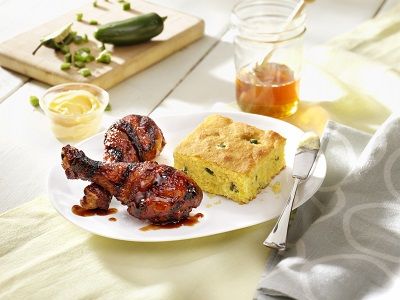 Our Cooked Perfect® Products
1

package (26 oz)

Chicken Drumsticks Wildflower Honey BBQ
1/3

cup

Butter, softened

1/3

cup

White sugar

1

cup

Cornmeal

2/3

cup

All purpose flour

2 1/4

teaspoons (tsp)

Baking powder

1/2

teaspoon (tsp)

Salt

2

each

Large eggs

3/4

cup

Milk

1/2

cup

Jalapeno peppers, chopped
Preheat over to 400°F. Grease a 9x9-inch baking dish.

Prepare drumsticks according to package instructions.

Beat butter and sugar together in a large bowl until smooth. Combine cornmeal, flour, baking powder, and salt in another bowl. Stir eggs and milk in a third bowl.

Pour 1/3 of the milk mixture and 1/3 of the flour mixture alternately into the butter mixture; whisk until just mixed. Repeat with remaining ingredients and stir in jalapeño peppers. Spread mixture evenly into prepared baking pan.

Bake in preheated oven until a toothpick inserted into the center comes out clean, 15 - 20 minutes.

Prepare the chicken drumsticks according to the package instructions.