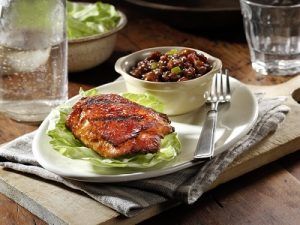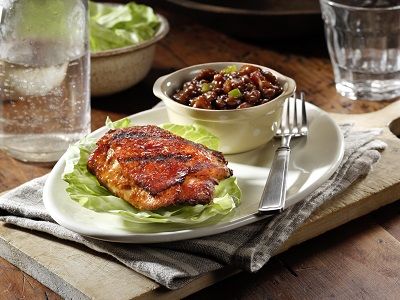 The perfect hearty meal for your next tailgate or brisk fall day. This recipe features our Cooked Perfect® Fire Grilled Bourbon BBQ Bone in Thighs with baked beans and bacon. This meal is sure to fill up even the hungriest of fans!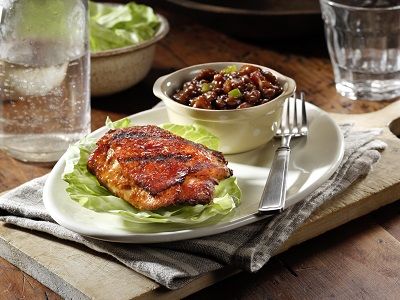 Our Cooked Perfect® Products
1

package (24 oz)

Chicken Thighs Bourbon BBQ
4

ounces

Bacon, cut into 1/2 inch pieces

1/4

cup

Brown sugar, packed

1/8

cup

Corn starch

1/2

teaspoon (tsp)

Ground mustard

1/4

cup

Molasses

1

teaspoon (tsp)

White wine vinegar

1

28 ounce can

Baked beans

1

each

Green bell pepper, chopped

1/2

each

Onion, chopped
Cook bacon in 10-inch skillet over medium heat, stirring occasionally, until crisp. Drain, reserving 2 tablespoons of drippings.

Mix cooked bacon, 2 tablespoons of drippings and remaining 8 ingredients (through the onion) in 3 1/2 to 4-quart slow cooker.

Cover and cook on low heat setting for 7-8 hours.

Prepare thighs according to package instructions.