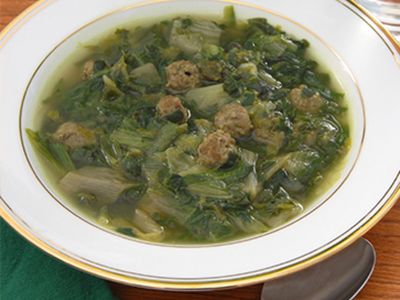 Cooked Perfect® Italian Style Meatballs
. With a cook time of 25 minutes, this dish is perfect for a quick week night dinner or even lunch on a cold day.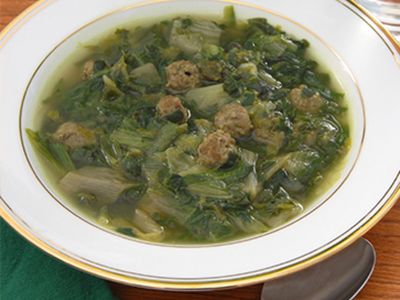 Our Cooked Perfect® Products
2

teaspoon (tsp)

Extra virgin olive oil

1/4

cup

Onions, 1 inch diced

2

each

Garlic cloves minced

5

ounces (oz)

Spinach (about a bag)

2

each

Eggs

2

tablespoons (tbsp)

Parmesan cheese; grated or ground

46

ounces (oz)

low sodium chicken broth

1/2

cup

Pastina or other very small pasta

2

each

Freshly cut green onions/scallions, sliced thin

Salt and pepper to taste
Place olive oil in large soup pan heat on medium heat.

Add onion and sauté until translucent (do not brown).

After onions have cooked, add garlic; stir constantly for about 2 minutes.

Add spinach and cook until wilted. Add ¼ teaspoon of salt and pepper.

After spinach is cooked, add chicken broth and bring stock to a boil.

Heat 16 meatballs on a microwave-safe plate for 2 minutes, do the same for the other 16 meatballs. Set meatballs aside.

Add pastina pasta and cook until pasta is al dente.

Add in meatballs and cook for 2 minutes and place on simmer.

In a separate bowl combine eggs and parmesan cheese with a whisk. Whip until uniform.

Add egg mixture to soup and stir slowly and let set for 3-4 minutes.

Stir in green onions/scallions, add salt and pepper as desired.
This recipe can be made with any variety of Cooked Perfect™ meatballs.