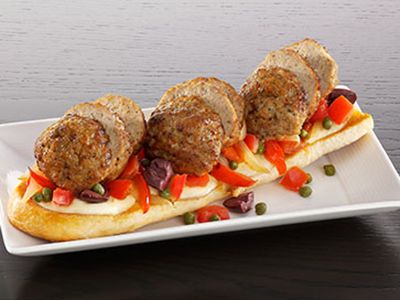 Cooked Perfect® Italian Style Meatballs
and a delicious blend of tomatoes, olives, red peppers and onions, you can't go wrong serving this recipe for lunch or as an appetizer at your next big party.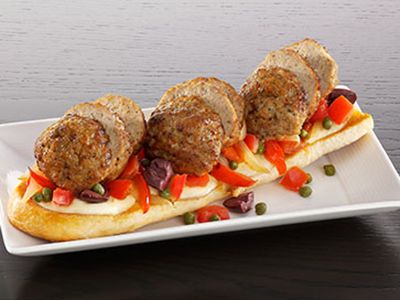 Our Cooked Perfect® Products
3/4

cup

Onions, sliced

3/4

cup

Red bell peppers, sliced

1

cup

Plum tomatoes, diced

1/8

cup

Kalamata olives, pitted

2

tablespoons (tbsp)

Capers

2

each

French bread loaves

2

each

Fresh mozzarella balls, sliced

1/3

cup

olive oil
Slice the French bread in half lengthwise and place sliced on cookie sheets.

Using 1/2 of the olive oil, drizzle over loaves then place under a hot broiler until toasted.

While bread is toasting, sauté the onions and peppers in a 10" skillet with the remaining olive oil for 10 minutes.

Slice the meatballs in half.

Add the tomatoes and meatballs and simmer for 10 minutes, then add the olives and capers.

Place the sliced mozzarella on the toasted French bread, top with the meatball mixture and bake in the oven for 5 minutes.
This recipe can be made with any variety of Cooked Perfect™ meatballs.