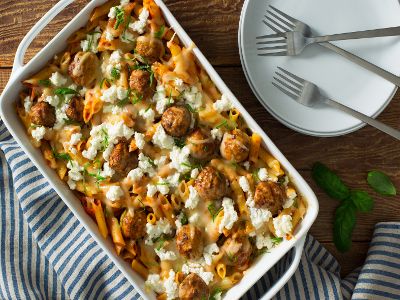 Our Meatballs and Penne Pasta Bake recipe has all of the makings of the new family favorite. Featuring our Sundried Tomato & Roasted Garlic Chicken Meatballs, drizzled in your favorite pasta sauce over penne, every bite is full of delicious Italian flavor. Add crumble cooked bacon on top to add a whole new level of flavor.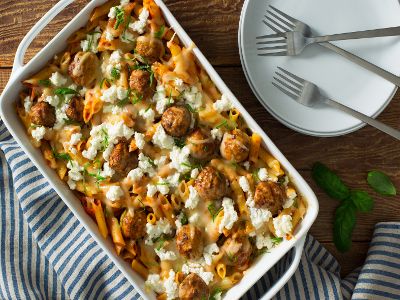 Our Cooked Perfect® Products
12

ounces

Penne

2 1/2

cups

Pasta sauce

1

cup

Ricotta cheese

1

cup

Grated mozzarella cheese

2

tablespoons (tbsp)

Finely chopped fresh basil
Preheat oven to 400° F. Prepare pasta according to the package instructions; drain. Toss pasta with sauce. Stir in meatballs.

Scrape into greased 8-inch baking dish. Dollop ricotta over top and sprinkle with mozzarella.

Bake for 20 to 25 minutes or until golden brown and bubbly. Sprinkle with basil before serving.