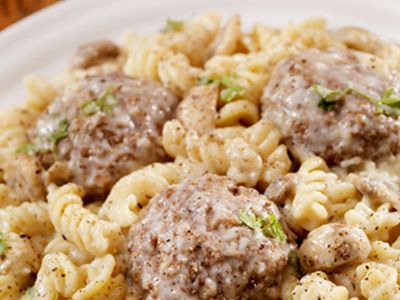 Cooked Perfect® Italian Style Meatballs
. Simply combine all of these delicious ingredients together and bake for 45 minutes. This recipe can serve a family or save the leftovers for dinner later in the week!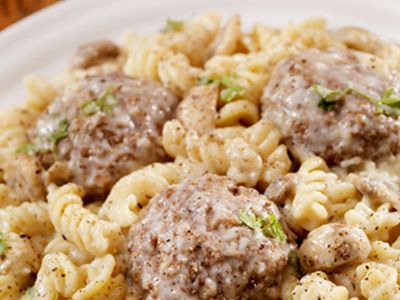 Our Cooked Perfect® Products
1

pound (lb)

Cellentani pasta (shape of a corkscrew)

8

ounces (oz)

Grated parmesan cheese

4.5

ounces (oz)

Extra virgin olive oil

2

each

Yellow onions, medium sized

1

can

Chickpeas, drained

Sliced white American cheese

Oregano

Plain breadcrumbs
Boil pasta, strain and set aside.

In pasta pot, add olive oil, onions, meatballs and oregano (to taste). Cook over medium heat, stirring occasionally until onions are soft. Adjust to medium low.

Add pasta and chickpeas. Stir until thoroughly mixed.

Transfer to a 13" x 9" x 3" casserole dish or other suitable baking dish. Spread out mixture exposing the tops of the meatballs.

Place one layer of the sliced cheese on top to completely cover. Sprinkle breadcrumbs on sliced cheese.

Bake at 350 degrees for approximately 45 minutes, or until top has slightly browned.

Serve immediately and enjoy!
This recipe can be made with any variety of Cooked Perfect™ meatballs.