Impress your family and friends at the next party with this savory appetizer. Featuring our Cooked Perfect® Korean BBQ Beef and Pork Meatballs, served on a warm puff pastry with orange marmalade, each bite delivers on the perfect blend of sweet and spicy flavor. This delicious appetizer will have your guests coming back for seconds and thirds!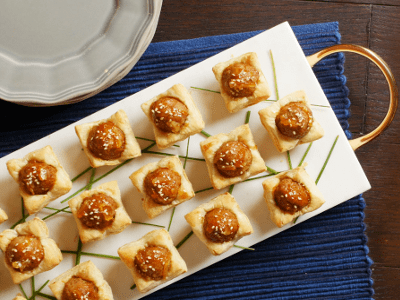 Our Cooked Perfect® Products
1

Sheet frozen prepared puff pastry

1/4

cup

Orange marmalade

1

teaspoon (tsp)

Sesame seeds
Preheat oven to 400 degrees F, then spray 16 mini muffin cups with cooking spray.

Unroll the puff pastry and cut into 16 even squares. Place one square of puff pastry in each muffin cup.

In a large bowl, combine marmalade with meatballs and glaze.

Place one meatball in each cup and drizzle remaining marmalade mixture over the top of each. Sprinkle sesame seeds evenly over the top of each meatball.

Bake for 20 to 22 minutes or until puff pastry is golden brown and meatballs are hot. Remove tartlets from muffin cups promptly to prevent sticking.