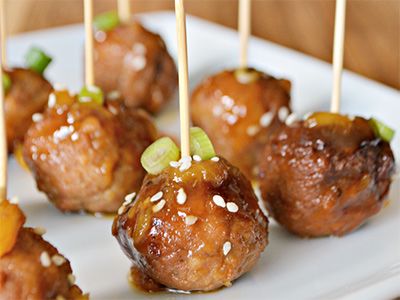 The perfect appetizer for game day or your next party. This recipe features a homemade, delicious teriyaki sauce served over our Cooked Perfect® Homestyle Meatballs and pineapple. Each meatball is packed with flavor and topped off with sesame seeds and scallions to create the ultimate game day bite.
This creative and fun recipe was developed by About a Mom Blogger. About a Mom Blogger has more details and tips on our Slow Cooker Pineapple Teriyaki Meatballs recipe.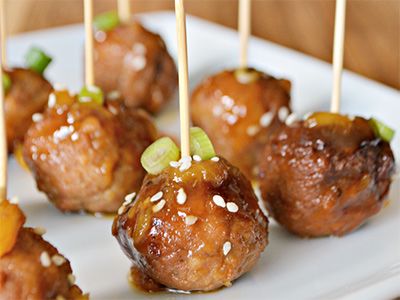 Slow Cooker Pineapple Teriyaki Meatballs
Ingredients
Our Cooked Perfect® Products
Other Ingredients
1

cup

Water

5

tablespoons (tbsp)

Brown sugar, packed

1/2

cup

Soy sauce

2

tablespoons (tbsp)

Honey

1

large clove of garlic, finely minced

1/2

teaspoon (tsp)

ground ginger

2

tablespoons (tbsp)

Corn starch

1/4

cup

cold water

1

8 oz. can crushed pineapple, in juice

Sesame seeds to taste

Scallions, chopped
Instructions
Combine 1 cup of water, brown sugar, soy sauce, honey, garlic and ground ginger into a saucepan. Set the saucepan to medium heat.

Combine the corn starch with the 1/4 cup of cold water in a medium bowl. Whisk until dissolved.

Add the corn starch mixture to the saucepan and heat the sauce until it thickens. The sauce should be thick enough to coat the back of a spoon.

Place the frozen meatballs into the slow cooker. Pour teriyaki sauce and crushed pineapple over meatballs. Gently stir.

Heat on high for 2 to 3 hours or on low for 4 to 5 hours. Serve the meatballs with sesame seeds and chopped scallions.