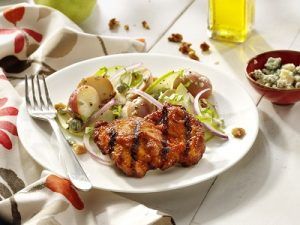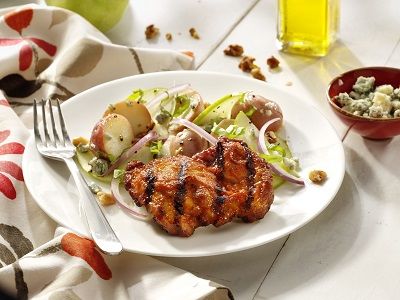 This delicious recipe incorporates red new potatoes and our Cooked Perfect® Fire Grilled Classic Style Boneless Thighs . The flavors for this dish are brought together with a quick and easy to make dressing. Each plate is topped off with Gorgonzola cheese, creating a well balanced meal.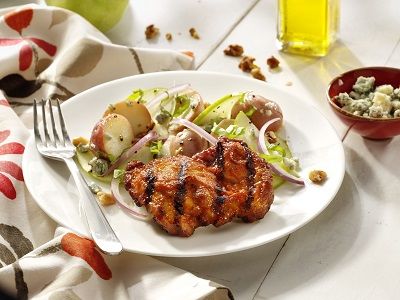 Our Cooked Perfect® Products
1

package (20 oz)

Boneless Thighs Classic Style
12

each

Small red new potatoes, halved

1/2

cup

Walnuts, chopped

1/4

cup

Champagne or white wine vinegar

1

tablespoon (tbsp)

Fresh basil, chopped

1

each

Granny Smith apple, halved, cored and thinly sliced

1

each

Red onion, halved and thinly sliced

1/2

cup

Crumbled Gorgonzola cheese

Salt and pepper to taste
Place the potatoes in a large pot and cover with salted water. Bring to a boil over high heat; reduce heat to medium-low, cover, and simmer until tender, about 15 minutes.

While the potatoes cook, in a small frying pan, toast the walnuts over medium heat until they are golden brown and fragrant, about 5 minutes. Set aside.

Whisk together olive oil, vinegar, basil, salt and pepper in a small bow and set aside.

Combine the apples, onion and walnuts in a large bowl. Once potatoes are tender, drain and add to the bowl. Pour the dressing over the mixture and toss to coat. Refrigerate for at least 2 hours or up to 24. Add the Gorgonzola once chilled.

Prepare the boneless thighs according to the package instructions.