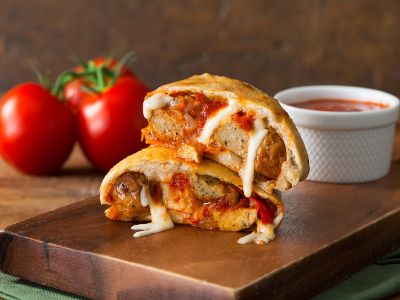 Be the fan favorite at your next party with our Meatball and Pepper Calzones. Our Meatball and Pepper Calzones recipe incorporates our Italian Style with Parmesan & Mozzarella Chicken Meatballs with all of the makings of an out of this world calzone including red pepper, your favorite tomato sauce and shredded provolone cheese. With a cook time of 25 minutes, you will have the best appetizer at the party ready in no time!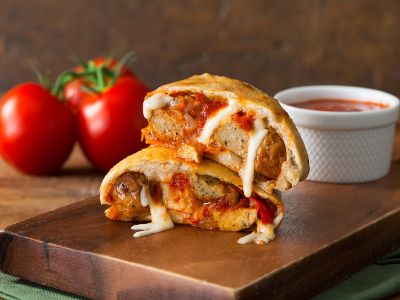 Our Cooked Perfect® Products
1

package (12 oz)

Italian Style with Parmesan & Mozzarella Chicken Meatballs, halved
1

tablespoon (tbsp)

olive oil

1

Onion, chopped

1

Red pepper, chopped

1

Clove of garlic, minced

1/4

teaspoon (tsp)

Dried oregano

1 1/2

pounds (lb)

Pizza dough

2

cups

Tomato sauce, divided

1 1/3

cups

Shredded provolone cheese

1

Egg

Salt and pepper to taste
Preheat oven to 425° F. Heat oil in skillet set over medium heat; cook onion, red pepper, garlic, oregano, salt and pepper for about 5 minutes or until tender. Let it cool completely.

On lightly floured surface, divide dough into 4 portions. Roll out each portion into 7 to 8 inch round. Spoon onion and pepper mixture onto the center of each round. Top 8 meatball halves, 2 tbsp tomato sauce and 1/3 cup of cheese.

Fold over to enclose filling and seal edges with fork. Prick with fork to make steam vents. Place on parchment paper-lined baking sheet. Beat egg with 1 tbsp of water and brush over calzones.

Bake for 15 to 18 minutes or until golden brown. Meanwhile, heat remaining tomato sauce until simmering. Serve with calzones for dipping.